Parallel Projects
Desert X Parallel Projects are arts exhibitions and events taking place in the Coachella Valley and surrounding desert communities during the run of Desert X. These projects are presented by non-profit organizations and artists and are free and open to the public. Please refer to the Desert X website for any additional or updated information on the projects.
Walter N. Marks Center for the Arts
College of the Desert
43-500 Monterey Ave
Palm Desert, CA 92260
Jenny Holzer: The Power of Words
From the Collections of Jordan D. Schnitzer and the Jordan Schnitzer Family Foundation
February 11-April 4, 2019
11am-4pm M-Th
Opening reception -February 20, 2019, 5-7 p.m.
For over 40 years, Jenny Holzer has pursued a unique art practice in which she uses words and sayings in different media to explore social issues and urge positive social actions. Her mode of delivery can be wall plaques, stone benches with carved inscriptions, prints and posters, LED signs, or printed T-shirts. Of the 53 works in this exhibition, there are lithographic prints, signs, and a carved bench. Holzer delivers her stereotypical laments, astringent observations, social commentary, and slyly humorous aphorisms on subjects ranging from war to racism to private and corporate greed.
The Schnitzer collections constitute the largest holdings of contemporary printmaking in the United States. The Foundation provides loan exhibitions to museums across the country.
Note: There are three parking places next to the gallery. Please see the gallery's front desk for parking passes.
Unsettled:
Art on the New Frontier
October 27, 2018 –April 30, 2019
Unsettled is a sweeping presentation of contemporary art by more than 75 artists living or working in the Greater West. This provocative exhibition looks to the future while also honoring the past and those who created cultures and places millennia before it was declared 'unsettled.'The exhibition's fertile terrain is a "super region" that runs from the top of Alaska, through the North American West, and all the way down to Central America, and the work created here explores the geography of vast frontiers, rich natural resources, diverse indigenous peoples, westward expansion, and the inevitable conflicts that arise when these factors coexist.
CREATE Center for the Arts
73733 Fred Waring Drive, Suite 106
Palm Desert, CA 92260

Love Across the USA: California
CREATE Center for the Arts is initiating a community sourced public artwork with New York based crochet artist, OLEK, as part of the artist's series of nationally recognized public works, Love Across the USA. This series focuses on empowering women's voices and building communities through the shared creation of a crochet mural. Each mural features a portrait of a historical American woman and a phrase. The project offers an artist talk and series of crochet workshops by OLEK and her team. These events are free and open to the public. At these workshops, participants will each receive a piece of the mural to crochet. The workshops will develop into crochet circles that will meet weekly at CREATE Center for the Arts. Participants will work together to finish their pieces during these circles. About six to eight weeks after her first visit, OLEK and her team will return to assemble and install the mural.
Coachella Valley Art Center
45140 Towne Street
Indio, CA 92201
149-Contemporary Thoughts on the Lynching of Mexicans in California 1848-1859
Project Dates: 1 February –23 March, 2019
In California between the years of 1848 and 1859, 149 Mexicans were lynched, victims of mob violence. Lynchings took place from Northern to Southern California and included the first lynching of a woman.Using sculptural insinuation for this lesser known historical fact, Wm. Marquez will create an installation consisting of 149 suspended objects. Marnie L. Navarro will use sound, projection and graphics to address the contemporary parallels in our current political and social climates.Being of Mexican heritage, both Navarro and Marquez are compelled to bring to light historical tragedies that are not discussed. Wm. Marquez's ancestors first settled the Santa Monica/Los Angeles area in 1769. Having past family members who may have been physically close to the mob violence and killings has compelled him to address this subject matter. Navarro has consistently made art works addressing social and political issues. She too is compelled to address the possibility of history being repeated.
Palm Springs Center for Creativity and Textile Arts LA
Makerville Studio
70101 Highway 74
Mountain Center, CA 92561
February 9 -April 21st
Opening Reception: 12-2pm February 9, 2019.
Looming Shelter
Looming Shelter is a site-specific, fiber-centric collaborative exhibit that plays with questions of shelter, inclusion, and retreat, as well as exposure, scarcity, and consequence. Panels of woven, knotted, sewn, dyed, found, re-used, and rescued material will be attached to a sculptural wood frame. Additional shelters dot the landscape adjacent to the largest piece and offer different interpretations of the idea of shelter. Also included in this exhibit is a complementary installation by two folded-paper fiber artists. Visitors are invited to walk through and around the structures, experiencing its liminal nature, while benches set into the scaffolding's base offer a perch from which to observe and ponder.
Artists: Bianca Barbaro, Carrie Burkle, Tyler Burton, Rita Capponi, Emilyn Eto, Annette Heully, Taylor Kibby, Jeff Morical, Anessa Shami, Carol Shaw-Sutton, Sovanchen Sorn
BoxoPROJECTS
62732 Sullivan Road
Joshua Tree, CA 92252
Project Dates: April 12-14
Opening Reception: April 12, 7-10pm
Paradise::Parallax
The Joshua Treenial is a weekend of art, installations, performances and community building that highlights all that Joshua Tree inspires and makes possible. Installations and performances take place at BoxoHOUSE in Joshua Tree, CA and at iconic local venues such as The Integratron. Cultural Partners are invited to produce exhibitions and programming that culturally activate the entire region. The Joshua Treenial is produced by BoxoPROJECTS.
This edition of the Joshua Treenial is titled Paradise::Parallax.Historically a place of refuge and transformation, the desert is paradise to diverse forms of life. Over eons, the local ecology has adapted to establish a delicate balance of life and lack. Indigenous peoples, prospectors, individualists, artists and others have all made their ways here. Much has flourished in the wide expanses and endless horizons. Many dreams are born in the desert...some come to fruition. The Joshua Treenial 2019 celebrates all the differing variations of desert paradise and the multiple viewpoints that they encompass.
Artists: Carl Berg and Cecilia Miniucchi, Ryan Campbell, Anibal Catalan, Rachel Dagnall and Per Platou, Jeff Frost, Séverin Guelpa, Mary Addison Hackett, Samantha Harris and Almond Zigmund, Adriene Jenikand Dominic Miller, Mathias Kessler, Angus McCullough, Michael Petry, Sabine Reckewell, Aili Schmeltz, Lewis deSoto, Ivan Wong
Downtown Coachella, CA
Coachella Walls is an ongoing, arts-driven community revitalization project in downtown Coachella's Historic Pueblo Viejo District. It is produced by artist Armando Lerma and curator Medvin Sobio, and supported by the City of Coachella. Free walking map downloadable at cadesertarts.org.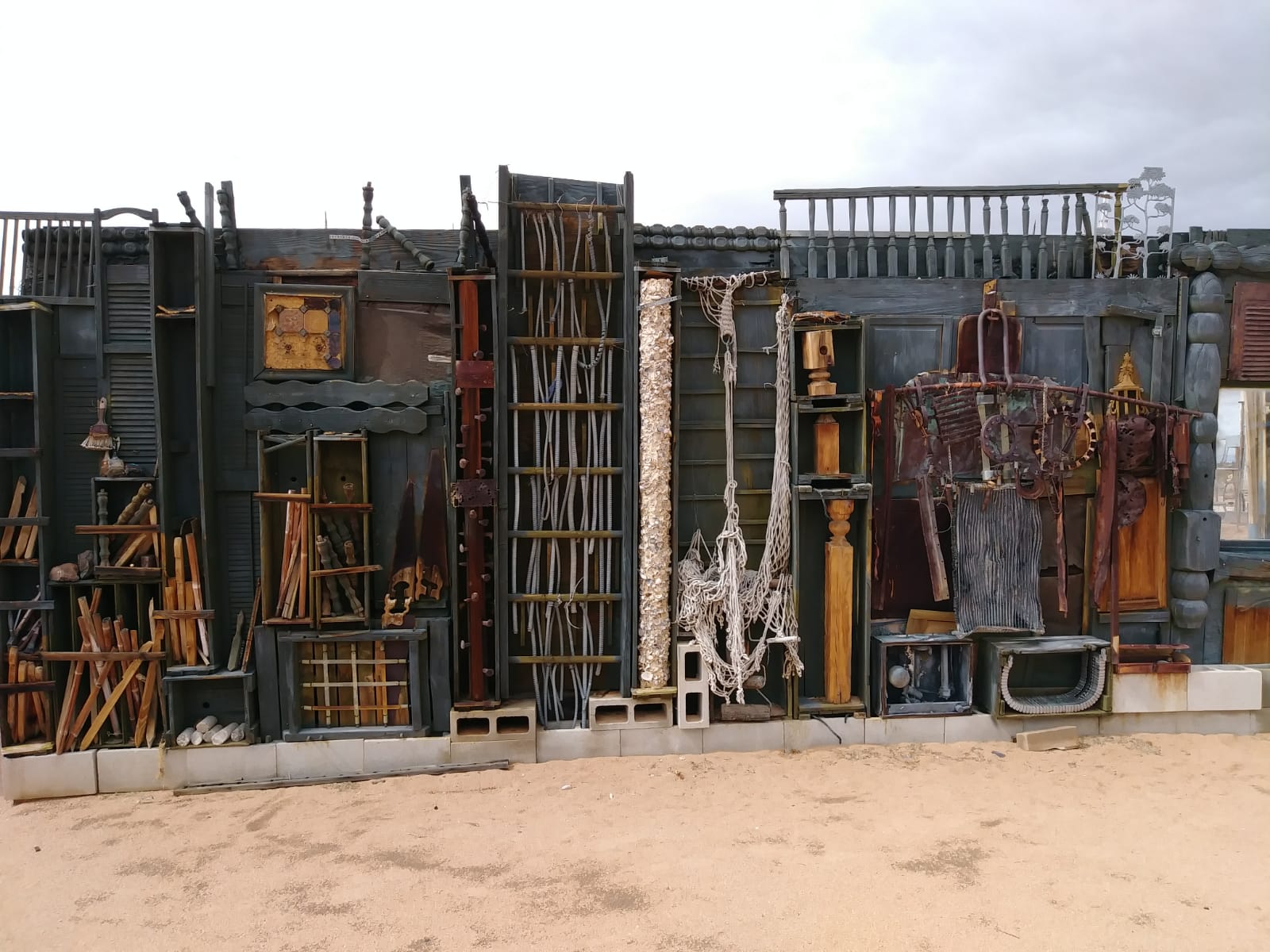 Noah Purifoy Outdoor Desert Art Museum of Assemblage Art
63030 Blair Lane, Joshua Tree
Open daily sunup to sundown
67616 Desert View Avenue
Desert Hot Springs, CA 92240
(From their website:) Cabot's Pueblo is marvel of engineering and design. The home was built beginning in 1941 and was always intended to be a museum in addition to the residence for Cabot and Portia Yerxa. The Hopi-inspired building is hand-made and created from reclaimed and found materials from throughout the Coachella Valley. Cabot used recovered lumber from his original homestead built in 1925 on the other end of Miracle Hill. Additionally, he purchased abandoned cabins and dismantled them to use the materials for the Pueblo, going so far as to straighten out used nails. Much of the Pueblo is made from adobe-style and sun-dried bricks Cabot made himself in the courtyard. Filled with Native American art and artifacts, souvenirs of Cabot's travels around the world, displays on Native American Rights, and Cabot's own works of art, the Pueblo Museum officially opened to the public in 1949. The Pueblo has four stories, is 5,000 square feet and includes 35 rooms, 150 windows, 30 rooflines, and 65 doors.
Artists at the Pueblo:
On the second Sunday of the month, we have local artists showcasing and selling their art work. It is free to the public.Cultural Weekends at Cabot'sArtists demo and display their art work during Cultural Weekend. It is open to the public from9-4 p.m.Artists: February: Lila Silveira, Trini Silveira, Guadalupe LedezmaMarch: Darance Chimerica, Gene Lalo, Raynard Lalo
Project Dates:
February 22-24, 2019-Mata Ortiz PottersMarch 22-24,2019-Hopi Kachina Carvers
Cabot's Pueblo Museum has continued Cabot's legacy tradition of highlighting and honoring traditional artists and art forms through our Cultural Weekendsprogram. These Weekendswelcome award-winning artists to demonstrate their craft. Cultural Weekendsinclude Oaxaca sculptors, Mata Ortiz potters, and Hopi Kachina carvers. These artists use pure, authentic hand-crafting techniques that have been passed down through generations
Radical Aesthetic Transposition
66725 Flora Avenue
Desert Hot Springs, CA 92240
Project Dates: March 2 –April 15
Opening Reception: March 3, 2-5pm
Boys Home
The artists in this inaugural exhibition, Boys Home, form a loose network of friends and colleagues whose works elicit a careful reading of human bodily experience. Particularly they impart a delicate sense of how to care for and remain aware of our unique physicalities, even as we navigate the crush of daily life. Their practices vary widely in material exploration, and yet a mutual elaboration of self-inquiry threads a commonweb of care. New definitions of health are what's at stake.
R.A.T. is a project space dedicated to visual and performing artists. It's a platform linking disparate locations, people, and ways of life through aesthetic transposition. In the face of growingsocial tensions, R.A.T. is a call-to-action-style engagement across special categories of social identity. Through artistic encounters we hope to radicalize against growing forms of isolationism and separation. We are based in the Coachella Valley outsideof Palm Springs. Our inaugural exhibition will be featured as a "parallel project" to Desert X, and bring people into the community of Desert Hot Springs. We hope to further serve under-represented artists of color, diverse ages, and experience levels.
Artists: Michelle Castillo, Minkyung Choi, Adriene Jenik, Matthew Savitsky, Rudy Shepherd, Chantal Wnuk.
Yucca Valley Visual & Performing Arts Center
58325 Twentynine Palms Highway
Yucca Valley, CA 92284
Project Dates: Feb. 2 -April 21, 2019
Opening Reception: February 2, 2019 from 6 –9 pm
Panel Discussion... "The State of Abstract" Sunday, March 10, 2019 -3:30 pm
ABSOLUTELY ABSTRACT
Absolutely Abstract touches upon the Modernist's traditions interpreted by current and contemporary developments in abstract artmaking, from minimalism, neo-geo, pattern, geometric/op, gestural/expressionism, process, and light & space. The artists chosen are an international grouping, from Europe, Central America, and the United States.
Artists: Blake Baxter, Luther Broome, Delos Van Earl, John Eden, Jann Houri, Terrell James, Christopher Georgesco, Jimi Gleason, Kat Green, William Loveless, David Mackenzie, Michael McCall,Andy Moses, James O'Keefe, Jon Peterson, Angel Ricardo Rios, Chip Richardson, Robin Rose, Yong Sin, Robert Walker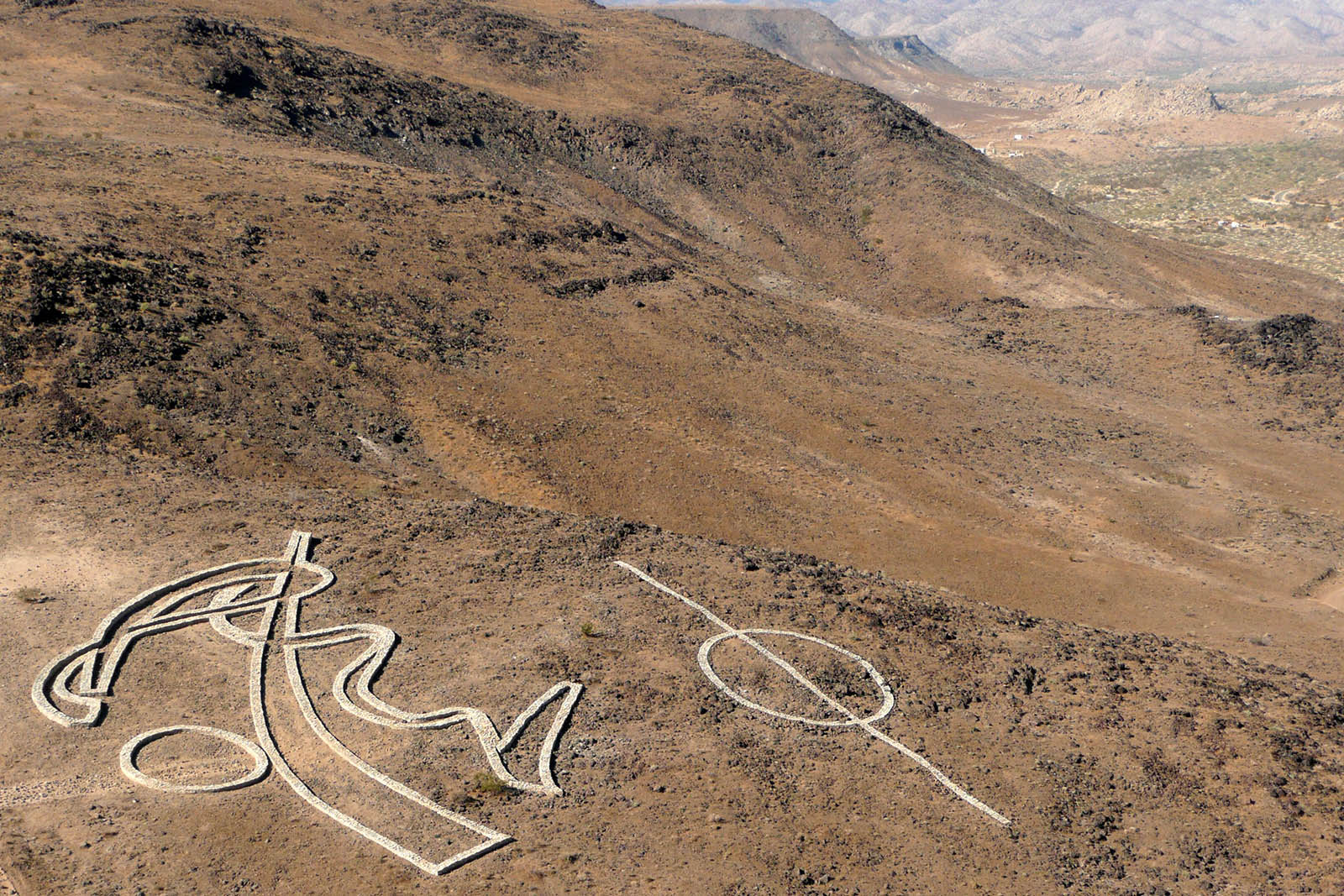 Black Mesa, Yucca Valley, CA
34° 11' 09.59" N -116° 26' 15.61" W
On view sun up to sundown, the Rhythms of Life sculptures by Andrew Rogers are optimistic metaphors for the eternal cycle of life and regeneration, expressive and suggestive of human striving and introspection. The geoglyphs embrace a wide cultural vision that links memory and various symbols derived from ancient rock carvings, paintings, and legends in each region; they punctuate time and extend history into the distant future while delving into the depths of our heritage in pursuit of the spiritual.
11564 Tioga Drive
Morongo Valley, CA 92256
Opening: Friday, March 15th
Friday hours 2pm-7:30pm
Saturday hours 2pm –7:30pm
Sunday hours 12pm –4pm
There will be different activities each day
Limit of 25-40 participants each day, reserve at perfec-art.com
These events are the planned public opening of Buckwheat Space's newly established creative place, and (W)here, a celebration and exhibition of our first 2 resident artists. The event will include the opening of the Artist Shelter, a functional container tiny house designed and constructed by Sculptor Rene Gortat for housing future resident artists.
Michelle Castillo will be engaging with participants through her Sari-Sari installation and her social practice community project "Lola's Kusina," a Filipino pop-up eatery that cultivates multisensory experiences to explore the notion of home, homeland, and identity in its many forms. Castillo will be leading a series of workshops/happenings that involve writing, poetry reading, Filipino dishes from her family's recipes, and an interactive Sari-Sari –a Filipino corner store similar to a bodega. The store will function as a swap/barter/donation-based space. Questions of home making inspire the notion of this installation as a "public family reunion" with a shared meal in addition to visual artworks and activities. The food will be prepared on site and free to visitors.
Friday, March 15th & Saturday, March 16th
Sari-Sari Store Interactive Hours: 5:00 PM-7:30 PM

Sunday, March 17
Poetry Reading 2 PM-4 PM
Lola's Kusina Dinner (Private) 7 PM.
Sunday, March 31st
Malunggay Workshop 1 PM-3 PM
Dorene Quinn and Yvonne Buchanan will have a small exhibit of their works on paper in the on-site Vilma exhibition space.
Artists: First resident artists, Rene Gortat, Syracuse NY (January 2019), and Michelle Castillo, Palm Springs, CA (March 2019), co-founders Yvonne Buchanan and Dorene Quinn
The City of Palm Springs Public Arts Commission (PSPAC)
At the corner of Museum Way and Belardo Road
Imagine Art Here
The Arts Commission has contracted artist Ryan Campbell to design and create a mural to be executed from February 10 -24. The commission will invite and encourage the public to watch the process unfold daily, while the artist and team create an 80' wide mural. Over the course of those 14 days there will posted work times and selected dates where the public will be invited to browse The PIT and meet the artist and painting team. We will be using social media outlets and email blasts to promote this project, the Palm Springs Public Art collection along with other publicart events.
Project dates: Start date February 10th–February 24th, 2019. Site will remain on public view through the 2019-2020 yearly seasonal calendars.
February 10-15, 11am-4pm daily –Watch Ryan Campbell paint the mural live
February 17th-22nd –Guests may browse the Pit and engage with the artist and painting team.
101 N Museum Drive
Palm Springs, CA 92262
Free admission every Thursday from 4:00-8:00 p.m. (sponsored by the City of Palm Springs).
Free admission Second Sundays, 10am –5pm, (sponsored by H.N. and Francis C. Berger Foundation)Always free for children under 18, active duty military and their family, and NARM and ROAM participants.
Hugh Kaptur: Organic Desert Architecture
February 2 –June 17, 2019
Architecture + Design Center The work of architect Hugh M. Kaptur (b. 1931) will be the subject of an exhibition at Palm Springs Art Museum Architecture and Design Center in Spring 2019.
Kaptur was a visionary designer who practiced in Palm Springs and the surrounding Coachella Valley area from the late 1950s through the early 2000s. With more than 200 built projects in the area—residential, commercial, and institutional—he played a significant role in the architectural development of Palm Springs.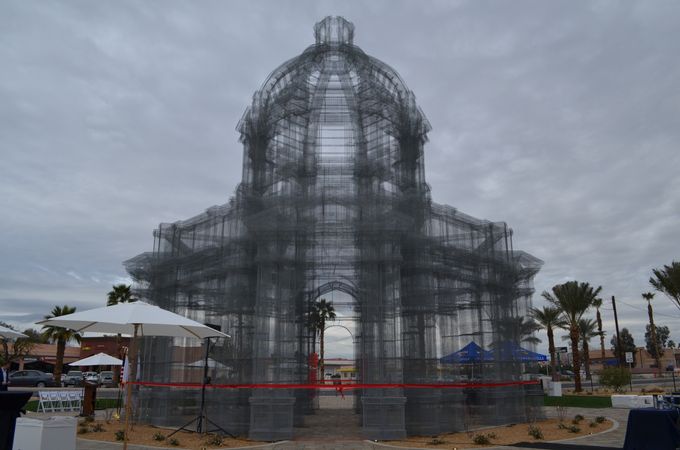 Artist: EDOARDO TRESOLDI
Northeast Corner of Cesar Chavez Street and Sixth Street, Coachella, CA
Edoardo Tresoldi installed three wire-mesh sculptures at the 2018 Coachella Music Festival, whose translucency weaved onto the festival grounds something that wasn't really there: neoclassical-and Baroque-inspired architecture. One of the structures has been donated by the festival to the city of Coachella as a permeant art installation. The sculpture breathes through the clouds and the wind, transferring the cosmic archetype of the sky into ephemeral domes through the language of classic architecture. The broken rhythms of the wire mesh generate sequences of architectural abstractions and amplified points of view. The optical effect changes with the light and atmospheric conditions as well as the perspective of the viewer. Etherea offers a dreamlike experience, a portal for contemplation, and an encounter between human and sky, which grows and shrinks as you move between the structures.